Episodes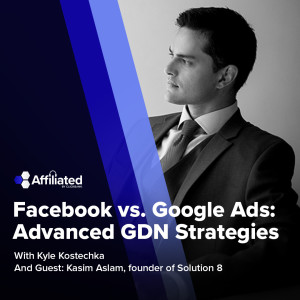 Monday Nov 15, 2021
Monday Nov 15, 2021
Kyle Kostechka interviews Solution 8 founder Kasim (rhymes with "awesome") Aslam about the traffic source relied on by 90% of all internet users on earth, and how you can be using it to provide tangible, innovative results for your company or clients.
Here's the thing: Facebook gives INSTANT gratification. Google provides long term value. 
Aslam said advertisers on Facebook cannot take their same strategy and copy-paste their campaigns into google. It could take 6-12 months and $10k/month in ad spend to figure this out. Google needs data for its machine learning to work, and so, according to Aslam, ad creative should shift to match that. One $50,000 commercial can lift a brand, but several simpler cuts, served strategically, can provide your business with extraordinary lifetime value.
In this interview, Kostechka digs into how to strategically serve up several iterations of creative on Google's Display Network to nurture and convert new business.
To hear more from Aslam, tune into the Perpetual Traffic Podcast: https://podcasts.apple.com/us/podcast/perpetual-traffic/id1022441491